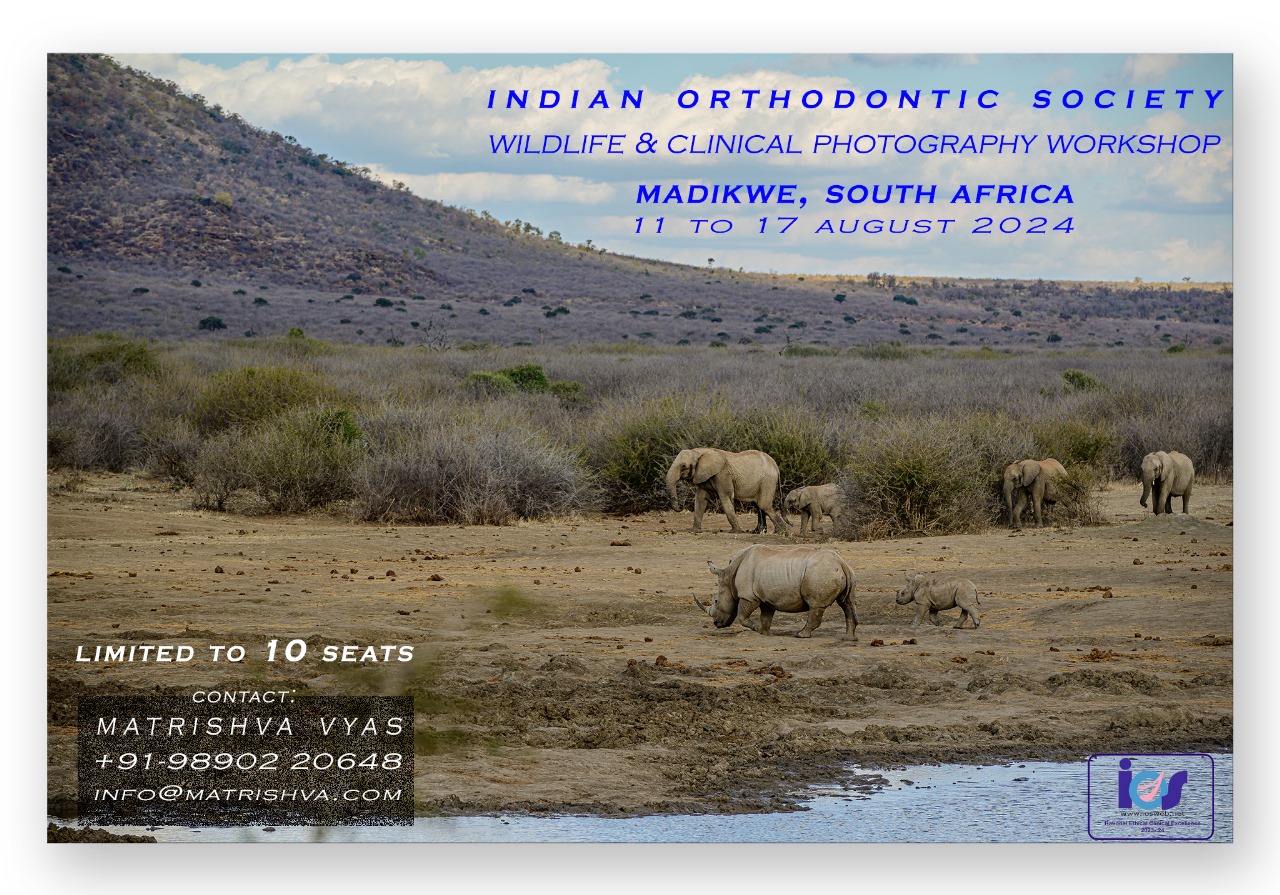 Indian Orthodontic Society
Wildlife & Clinical Photography Workshop
(International)
11th – 17th AUGUST 2024
Duration : 6 Night /7 Days
Destination : Johannesburg, Madikwe Game Reserve.
# Prime Game viewing and unique wildlife photographic opportunity.
# 1 night Johannesburg, 5 nights Madikwe Game Reserve on Twin share.
# Surface transfer to and fro Johannesburg – Madikwe in Toyota Quantum with AC.
# Only 5 px per Open Land Cruiser.
# Stay inside the Park boundary.
# Exclusive use of the luxurious lodge.
# All meals specified in inclusion section, fees, activities, and all local brands (spirits,
wine, beer) included.
# Online Photography classes month before the tour to understand basics and the
specific requirements for different types of photo opportunities in Madikwe.
# On field and in lodge training while on safari in Madikwe.
# Session on Clinical Photography.
We welcome beginners in photography as well as experienced photographers who wish to push their photography to the next level. That said, it is not necessary to be a photographer to join this safari, you can simply be a nature lover.
Your photography Guide Dr. Matrishva Vyas will lead this safari and share his wildlife and clinical photography knowledge to ensure that you return home with excellent suite of images and enhanced knowledge on photography. It is vital that you are well prepared for this safari. To ensure that, we will provide you all the necessary information regarding packing, camera, lenses, and other photographic accessories specifically needed for Madikwe, and a myriad of other general useful information.
To maximise the game viewing experience, we will embark on a full day safari on certain or all days depending on the sightings and specific inputs from our Guides. After the safari is over, online classes on post processing will be held to continue our learning experience. We will specifically work on those images which has been shot by you to make you understand the nuances of post processing.
Nine lucky guests will have the entire Matla Game Lodge www.matlagamelodge.com to themselves during this photo safari with professional wildlife photographer Matrishva Vyas. Explore the Big 5 Madikwe Game Reserve and maximise on the fantastic photographic opportunities.
This popular safari takes place in the remote Madikwe Game Reserve – one of the largest Game Reserve in South Africa and close to the Botswana border. This 750 square kilometre reserve is malaria-free and easily accessible via a short flight from Johannesburg or by road (5 hour drive).
A great photo safari location, madikwe is home to the sought after Big-5 (elephants, lion, leopard, cape buffalo, and rhino) as well as highly endangered African wild dogs, cheetah, and brown hyena and variety of antelope species including kudu, springbok, Impala, sable. Madikwe boasts over 60 mammal species and is a bird lover's paradise with upto 400 residents and migrant species recorded.
Your local guides driving the game vehicles, lives in Madikwe game reserve and
understands its very pulse. Their passion and local knowledge ensures prime time photo safari opportunities, whilst Matrishva's mentorship will assist you to be ready, prepared and capture that image which will remain with you for life. His eagerness to share his technical knowledge will definitely benefit your wildlife photography irrespective of your skill level.
It is no surprise that many of Matrishva's award winning images are taken in this game reserve.
– Upon arrival and immigration check at OR Tambo International Airport Johannesburg, you will be find your way to the City Lodge hotel https://clhg.com/hotels/152/City-Lodge-Hotel-OR-Tambo-International-Airport situated inside the airport building. Check-in and indulge in optional activities like city tour of Johannesburg or shopping in airport complex depending on your time of arrival. (All optional activities and meals on this day are at your cost and not included in the itinerary).
Meal plan: Breakfast on next day morning.
After early Breakfast, embark on a scenic and comfortable road journey to Madikwe Game Reserve enjoying the countryside view and stop at a mall in Zeerust for a coffee break. You can do some local shopping here.
Reach Matla lodge
www.matlagamelodge.com in time for lunch, check-in, and after a brief afternoon siesta upload yourself on a game safari vehicle. You will have a fully open Land Cruiser for epic safari experience. Each vehicle is 10 seater + Guide/Driver, but you will be only 5 px per vehicle. Depending on the sightings we will decide our route and also stop at a designated place for the sundowner and enjoy the local drinks along with biting which are part of the itinerary.
Matla Game Lodge is a private and exclusive-use bush getaway, accessible only to its prestigious members and their invited guests. The lodge offers luxurious accommodation and facilities, for up to 10 adults, either as a family, a group of friends, or a small corporate retreat for those who prefer to be hosted in a secluded environment.
All meals, and drinks at the lodge.
All these days we will have nearly the same routine but explore different parts of the game reserve targeting different animals and photographic opportunities. Depending on the inclination of group members we will go either for full day drive or morning and evening drive. Please note that we will carry the breakfast and the lunch if we opt for the full day safari.
Return to the lodge, dinner and retire for the day.
Have a look at some of the images Matrishva took in Madikwe during his July 2023 safari. Also watch these YouTube video shot in Madikwe to understand what to expect.
https://youtu.be/j92ZY6klCig?si=BuWu2drQZTnuH93n
https://youtu.be/WKlqO-1YTyw?si=dZDWtkapGZSQbM2J
https://youtu.be/wIgmkwwefus?si=CKlO94fMMGgpSh7C
https://youtu.be/rk9JTSZPWFI?si=9wRHsxKHIlCFwtYl
https://youtu.be/2qgzGfx4yOw?si=NkM2cPxHMQmNLYyY
https://youtu.be/o6jFd4f6Pyk?si=NeGUooD7bCgZIUck
https://youtu.be/yKALp3f5In8?si=h0yKkNocOCxBKfpG
This is the last morning in Madikwe for this safari, and we will do an early morning game drive, return to the lodge for brunch, freshen up, checkout and proceed to Johannesburg international airport by road for boarding our flight back home.
End of Tour.
Cost: ZAR45750* + 5% GST* PP ex Johannesburg. (+ 20% refundable TCS if applicable).
Please note that this amount is excluding the bank transfer cost for international transaction.
Booking and Cancellation:
An advance booking amount of ZAR1000 (non-refundable) to be paid for confirmation of the seat. Once your seat is confirmed you have to pay the full amount in three easy instalments in following manner:
1st instalment: 30% of total amount. (Between 1st December 2023 to 15th December 2023)
2nd instalment: 30% of total amount. (Between 1st February 2024 to 15th February 2024)
3rd instalment: Balance amount (Between 16th April 2024 to 30th April 2024)
If in case, you decide to cancel the booking and if you provide the alternative participant of same gender then the full amount will be refunded at any point of time. But it is your obligation to provide an alternative.
Cancellation fee of ZAR 10,000 applies if you decide to cancel on or before 31st March 2024.
Cancellation fee of ZAR 15,000 applies if you decide to cancel on or before 30th April 2024.
Cancellation fee of ZAR 25,000 applies if you decide to cancel on or before 31st May 2024.
No refund if you cancel on or after 1st June 2024. However, you can provide an alternative to avoid paying any cancellation fee.
Includes:
# All activities mentioned above.
# Meal plan starts from breakfast on August 12 to Brunch on August 17, 2024.
# All local alcoholic and non-alcoholic drinks. (List will be provided later)
Excludes: Visa, International Airfare, vaccination, travel insurance, Items of personal nature, meals apart from the above mentioned itinerary, Tips and Gratuities, and any activities not specified in the itinerary.
Please note that your moderate level physical and mental fitness is must to join this safari.
Contact:
Matrishva B. Vyas
+91 98902 20648
It is not necessary to be a photographer,
 to join this tour…….you can simply be a nature lover.
"Your taste can differ;
but our commitment to excellence is unchanged"